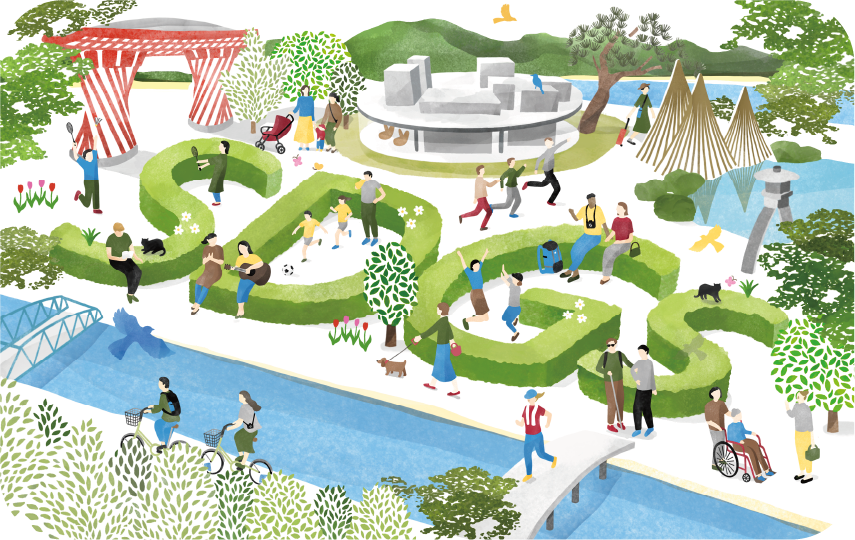 Learn, experience, and fall in love
with the nature and culture of Kanazawa.

During Edo period (1603-1868),
Kanazawa used to be a samurai castle town.
And to this day, people's day-to-day life are still
surrounded by this culturally rich atmosphere,
which includes a district where the samurai used to live,
a Chaya districts with unique tea-house architecture, and more.
The people of Kanazawa take pride in maintaining
the culture and townscape from the old days.
We cherish and protect our hometown atmosphere,
with its two rivers and vast amounts of greenery
that colors every corner of our town.
Tourism companies here carefully work towards
presenting Kanazawa for what it is.
We contribute to creating a Kanazawa that is
fascinating to both residents and visitors.
Now that the number of tourists visiting Kanazawa
has massively increased, we ought to stop and think.
"How can we guarantee that the things that
we cherish are not going to be negatively impacted by tourism?"
Efforts towards sustainable tourism have begun in Kanazawa.
The foundation of such actions? Our love for Kanazawa.
The same way you would take care of your own city.
The same way you would be respectful to a friend.
We would be so happy if you would get to love Kanazawa too when you stop by.

We are putting into practice the "Kanazawa Future Visions", an action plan for the SDGs. If you look at the plan, you will find many different things, from ideas on how to keep the traditions of the area to ideas on how to reduce the burden on the environment, and suggestions for a town development model where walking around the city is pleasurable. By refining the appeal of the city from the perspective of the SDGs, we are also thinking about new ways of doing tourism, where the local resources will be carried into the future. All of that while valuing a positive attitude towards cross-cultural understanding and accessibility to those who need it.

We love the rich nature of Kanazawa and its centuries-old culture and we would love to pass it on to the next generations. We want you, who is visiting Kanazawa, to cherish and value the same things that we do. By expanding your imagination and standing from the perspective of a Kanazawa local, we would like you to enjoy, at the same time, the excitement of being on a trip and the satisfaction of blending in.

Learn about the nature, culture and history of Kanazawa.
It's a good idea to make some research before your trip, and then ask your guide or locals on the spot for more details about something that interested you. This should make Kanazawa much more enjoyable.
Get familiar with traditional crafts and art.
Visit museums, gallery shops, and workshops to familiarize yourself with Kanazawa's traditional crafts and art. This is your chance to experience something that can only be done "here and now" and to find "once in a lifetime" experiences.
Enjoy the cuisine.
We are proud that Kanazawa is famous for its food. Don't miss the chance to try its seasonal flavors. You can ask locals for recommendations of restaurants and dishes.
We recommend slow traveling.
Take a walk along the vibrant and unique shopping streets. Rent a bike and ride along the rivers. Kanazawa is an eco-friendly destination perfect for slow traveling. Of course, be careful not to enter the premises of private houses.
Let our hearts unite.
Just by greeting or having an exchange with someone else, we can feel the distance between us shorten and our hearts unite. We, the people of Kanazawa, would love to build such a relationship with those who visit the city.
Let's look for eco-friendly solutions.
Choose eco-friendly shops and services. Bring your own bottle or eco-bag when you go out. Avoid getting excessive wrapping when shopping. We want both customers and service providers to be aware of this.
Would you like to stay a little longer?
Experience the rhythm of the town, the exchange with the people, and the everyday-life ordinary Kanazawa. If you decide for a longer stay, you will be able to understand things that would not be able to grasp just by passing by.
How about staying in a Machiya in Kanazawa?
Many Machiya townhouses have been renovated and turned into inns. This is a very attractive option because you get to stay as if you were living there. On top of that, you are able to not only experience the history and lifestyle of Kanazawa, but also contribute to the preservation of the city.



Please enjoy your stay in Kanazawa while
loving it and caring for it the same way we,
the people from Kanazawa, do!